Starting any new fitness regimen can be intimidating if you don't know what to expect. At Physique 57 we like to prepare new clients with a few words of wisdom and ensure a challenging and rewarding experience! Here are the top 5 things to know before your first barre class.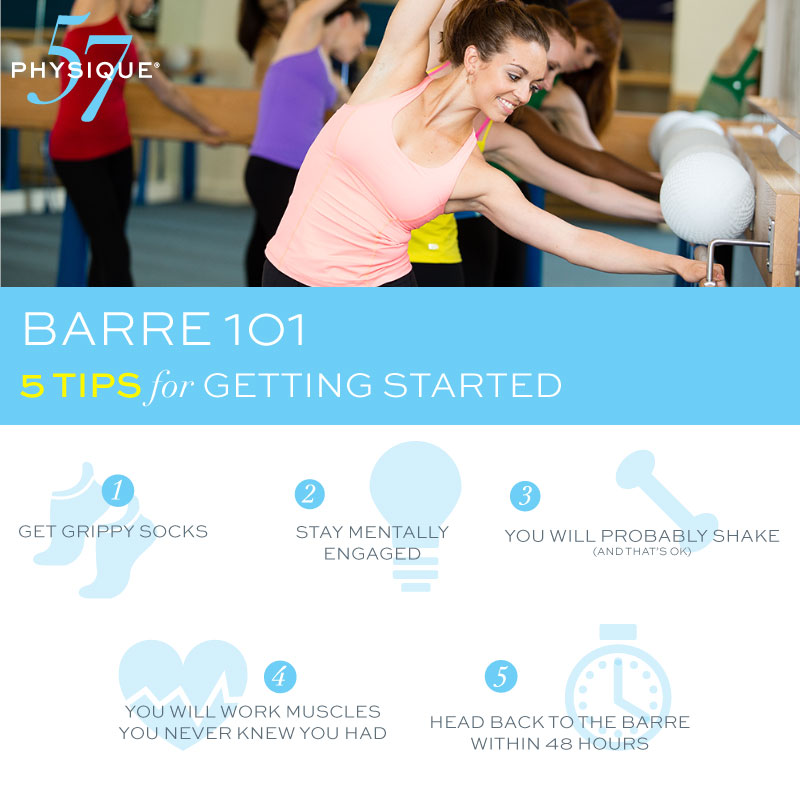 1. Invest in Grippy Socks – When you walk into a barre studio like ours, your shoes come off and you take class in a carpeted space. To avoid slipping and sliding while exercising, we highly recommend investing in some Physique 57 Grippy Socks. Our advice is to set yourself up for success from the very beginning. Commit to the socks and the workout. You will notice that the grippy socks are especially helpful during plank work and for overall stabilization and balance.
2. Stay mentally engaged – Barre classes can go from 0 to POW depending on alignment and positioning so really listen to the instructor and stay mentally focused. Small adjustments in positioning can have a great effect on the efficacy of the workout.. Focus not only on form but also on the muscle you are working. Sensation can be a great tool to ensure that you are engaging the right muscles so keep checking in with what you're feeling. As you feel your muscles firing up, work towards that burn instead of shying away from it.
3. You will probably shake (and that's ok) – Muscle endurance can be tested when trying a new workout in the form of shaking – and that's great! Shaking means that your muscles are getting fatigued to the point of overload, where they then break down to rebuild much stronger. Just know that it's ok to take breaks – just jump back in. As your muscles get more used to the barre exercises, the movements will become smoother and the shaking will subside. Shaking can be a sign of dehydration so be sure to drink water before, during and after your workout.
4. You WILL work muscles you never knew you had – Those muscles will be the ones that help you create a long, lean physique. The focus of barre classes is to work in a way that will not "bulk up" the body, but will help create lean, toned muscles. The combination of strength training, cardio and stretching helps create that health, strong dancer's physique.
5. Head back to the barre within 48 hours – Although you may feel sore after your first barre class, you should return to your second class within the next 48 hours to work out all the lactic acid and help reduce some of the soreness. Plus, if you don't go right back to the barre, you might not ever! Often signing up ahead of time holds you accountable to coming back for that second try. It does get better the second time since you will be more familiar with the class format and challenging exercises! Just think, all that soreness is a sign that the exercises are really working (hello, swimsuit)!
Although barre classes can be extremely challenging, they are also mentally engaging and a great way to take time for yourself. You will learn new things about your body as well as really push yourself in ways you probably never have before. We often say that class can be as much a mental exercise as a physical one – you will push past perceived limits and come out knowing you did amazing things for your mind and body. So sign up for your first class at one of our studios – our PHYSIQUE FUNDAMENTALS class (available in New York City, Scarsdale and Beverly Hills) is perfect for newcomers. Not near a studio? Try one of our barre workout DVDs or online workouts.